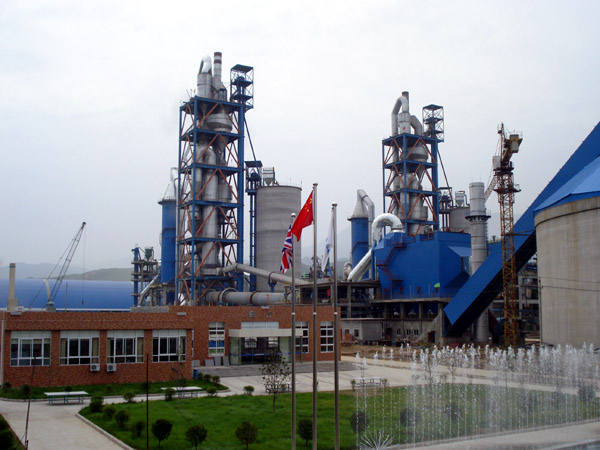 Description of New Type Dry Process Cement Production Line:
This new type dry process cement production line is a kind of process mainly used for small, medium and large-scale cement plants. Its preheater employs outside kiln precalciner. Capable of utilizing the waste heat from kiln inlet to decompose raw meal, this line is good at saving electricity and heat. Its closed production line makes it possible to reduce its ambient dust pollution to less than 50mg/Nm3. Besides, its capacity to make use waste heat makes it quite cost efficient for users.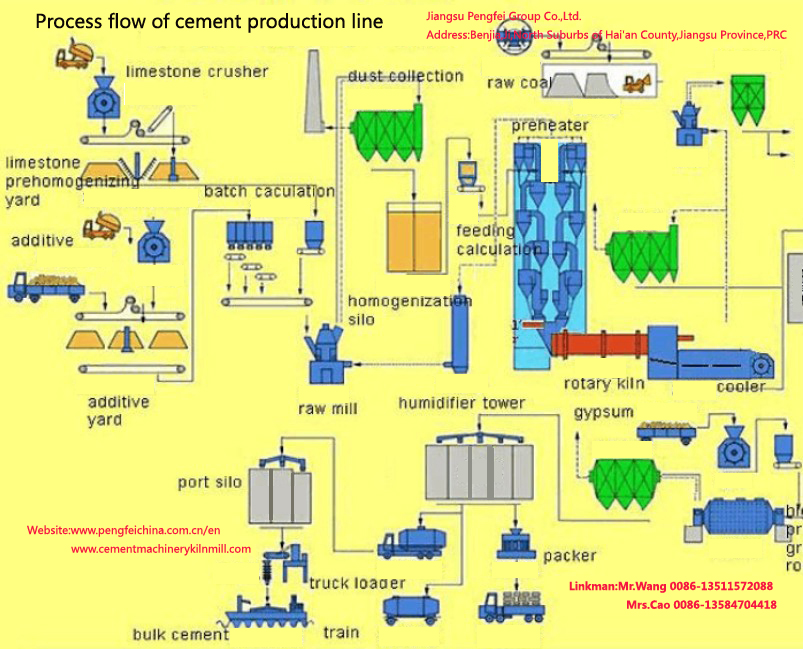 Production Flow of New Type Dry Process Cement Production Line:
1. Crushing and Pre-homogenizing:
Most of the raw materials, like limestone, clay, iron ores, and coal, should be crushed before their pre-homogenization. Limestone is the primary material in this line, and due to its large particle size and high hardness, its good crushing plays an important role in the whole line. Special stacking and reclaiming technology has been used in the pre-homogenizing process so that raw materials can be better primarily homogenized.
2. Raw Meal Preparing:
Since the raw meal grinding work takes up more than 30% labor force in the whole dry process cement production line, it is quite important to choose appropriate grinding equipment and technological process so that high-quality products can be obtained.
3. Raw Meal Homogenizing:
The raw meal homogenization is a key factor for stable clinker calcination.
4. Preheating and Decomposing:
The preheater is used to preheat as well as decompose raw meal. So the length of the rotary kiln is effectively shortened. And the raw meal can fully exchange heat with the hot gases from the kiln. Because of its rapid and high-efficiency heat transfer, the production efficiency and heat consumption of this production line are greatly improved.
5. Clinker Calcining:
After its preheating and pre-decomposing, the raw meal will be calcined in the rotary kiln, where the generated carbonate will be further decomposed. Meanwhile, a series of solid phase reactions will take place.
6. Cement Grinding:
As the last process, the cement grinding will consume a great deal of electricity. And in this process, special size granule cement will be obtained.
7. Cement Packaging:
The cement can be transported in bulk or in bags.
日产5000吨新型干法水泥生产线项目报价单
Proposal for 5000tpd new dry process cement production line
1、建设条件

Construction condition
(1)建设规模:一条日产5000吨新型干法水泥生产线。
Construction scope: a unit 5000tpd new dry process cement production line
(2)原料:采用石灰石、砂岩、硫酸渣、废土四组分配料,配料比例为石灰石:砂岩、硫酸渣、废土=80.02:9.72:2.92:7.16
Raw material: uses limestone、sandstone、sulfur acid residue and spent clay four component ingredient; its ingredient proportion ratio: 80.02:9.72:2.92:7.16
(3)全线装机容量:35000KW
Installed capacity of the whole line: 35000KW

2. 主机设备
Main equipments:

3、物料储存方式、储存量
Storage form and storage capacity of materials


=========================================================================================================

As world-known and high-quality cement machinery general contractor, Jiangsu Pengfei Group Co., Ltd can provide you with various machines, such as cement production line, cement grinding plant, active lime production line, industrial kiln and furnace, grinding equipment, crushing equipment, environmental protection equipment, drying equipment, cooling equipment, compound fertilizer equipment, Conveying Lifting Packing Equipment, Most of our products have passed the certification of ISO9000 and CE, and they have been quite popular among customers from as many as 60 countries and districts such as Germany, Russia, Brazil, Egypt, Japan, South Korea, Bengal, Pakistan, Turkey, Vietnam, South Africa, Columbia, Bolivia, etc. If you need equipment such as rotary kiln, ball mill, vertical mill, rolling machine , please don't hesitate to contact us.